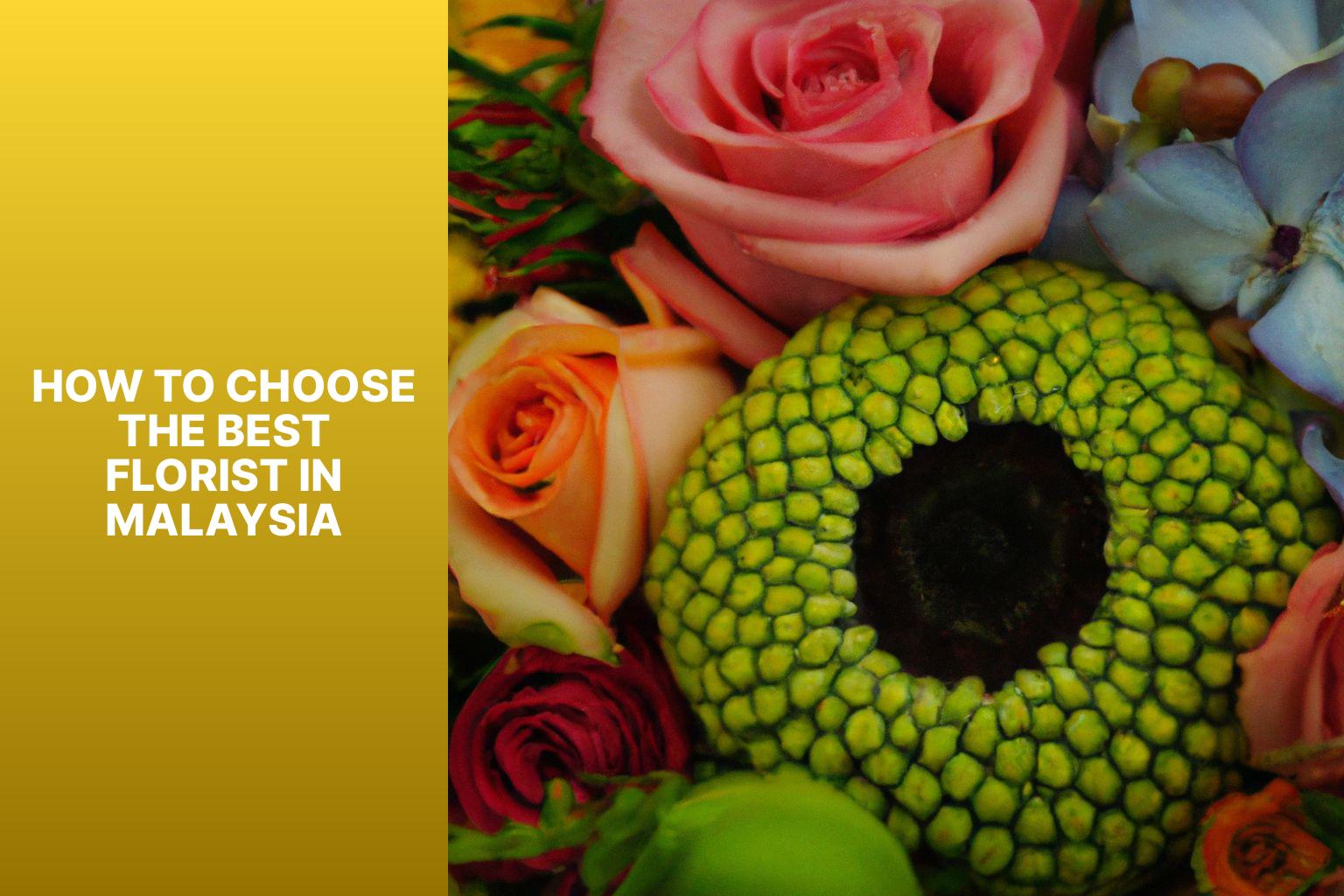 Searching for the finest florist in Malaysia? It's not an easy job with all the options out there! But don't fret. This article is here to help you pick the perfect one for your flower needs.
What's the first thing to look at? Their reputation. A reliable florist would boast good reviews and happy customers. So, go for a trusted florist for top-notch flowers and great service.
Variety of blooms is essential too. The right florist should have a huge selection of fresh and vibrant flowers. Whether it's a simple bouquet or a fancy arrangement, they should fit the bill.
Location and delivery services are necessary too. It's best if the florist is close to your home or event venue for smooth delivery. Ask about their policies and fees to avoid any hassles.
Price is something not to be overlooked. Quality should never be sacrificed for affordability. Look for a balance between cost-effectiveness and value for money.
Finally, check out the florist's creativity and artistry. Have a peek at their portfolio or visit their store to get a feel for their style. A talented florist can take ordinary blooms and transform them into stunning arrangements!
Researching Florists in Malaysia
Researching florists in Malaysia? Consider these key points to make the best decision!
Location: Is the florist close to your delivery location?
Reputation: Check for positive reviews and ask around.
Services: What services do they offer? Customized arrangements? Events and functions?
Price: Find one that fits your budget, but beware of suspiciously low prices.
Delivery options: And take their delivery policies into account.
Peak seasons: Make sure they're available for Valentine's and Mother's Day.
Remember, you want a reliable and reputable florist to guarantee high-quality flowers and excellent service. With careful research and consideration, you can find the perfect florist for any occasion in Malaysia – it's like finding true love!
Considering the Services Offered
To pick the best florist in Malaysia, think about the services they provide. That way, you'll find someone who meets your needs and offers top-notch service. Here's what to look for:
Custom Floral Arrangements: Find a florist who can make special arrangements to fit your style and ideas.
Flower Delivery Services: Choose a florist that offers reliable delivery. Then, you can have flowers sent to you or others without any fuss.
Event Decoration: If you're planning an event, select a florist who specializes in decoration. They'll turn any venue into a beautiful space with flowers and decor.
Wedding Flowers: For weddings, pick a florist that knows how to make bridal bouquets, centerpieces, and more.
Corporate Floral Services: If you need regular flowers for your office, find a florist who does corporate services. They can supply fresh blooms on a regular basis.
When considering the services of different florists in Malaysia, keep in mind your own needs and preferences. A great florist will adjust their services to fit your requirements and give you beautiful flowers that exceed your expectations. Finding the right florist in Malaysia is like finding a needle in a bouquet. With these tips, you'll find the perfect one!
Assessing the Quality of Florists
Evaluating florists in Malaysia is key when selecting the right one. Assess services, reviews, variety, freshness, delivery, personalization and more with a comprehensive table for criteria. Services such as gift wrapping or event decoration may add value and convenience. Time and effort are needed to find the perfect bouquet! Research service range, reputation, flower variety, freshness, timeliness and personalization. Check customer reviews and testimonials. Assure fresh flowers from trusted suppliers. Ensure timely delivery to maintain customer satisfaction. Choose a florist that meets specific needs and offers beautiful floral arrangements.
Comparing Prices and Packages
| | | |
| --- | --- | --- |
| Florist | Price Range (RM) | Packages Offered |
| Blooming Gardens | 50-100 | Rose Bouquet, Mixed Flower Arrangement, Orchid Basket |
| Fragrant Petals | 80-150 | Tulip Bouquet, Gerbera Arrangement, Lily Vase |
| Pristine Blooms | 120-200 | Sunflower Bouquet, Carnation Box, Exotic Floral Display |
When selecting your florist, never forget to compare the quality of the flowers! Pick a shop with luscious blooms for your arrangement. Moreover, check for extra services and customization available.
These details, coupled with the prices and packages, will help make a wise choice when looking for a florist in Malaysia. So, go ahead and search for the perfect floral gift for your special occasion!
Finding a florist with incredible customer service is like stumbling upon the fairytale world – it's rare, but will surely make your day remarkable.
Customer Service and Communication
For an amazing experience, pick a florist that is:
Prompt in responding to inquiries and concerns.
Friendly and professional staff.
Clear communicators.
Timely updates about the progress of orders.
Flexible when plans change or special requests arise.
Provides post-purchase support.
Plus, some Malaysian florists offer personalized consultations and custom floral arrangements for special events.
Choose a florist with great customer service and communication and you're guaranteed to have a delightful experience. Make your floral arrangements even more special!
Making a Decision and Placing an Order
Research and Explore: To find a great florist in Malaysia, start by researching their specializations, reputations and customer reviews.
Compare and Evaluate: Narrow it down to a few potential florists and compare their services, offerings and pricing. Check out their portfolios or visit their physical stores. Also, consider delivery options, payment methods and quality of work.
Place the Order: After selecting your preferred florist, it's time to order. Fill in accurate details like flower type, arrangement preferences, delivery date and any special instructions. Double-check everything before confirming.
Communicate: Openly communicate with the florist about any queries or concerns. A reliable florist will be more than willing to answer questions or provide suggestions based on their expertise.
Conclusion: With this approach and a trusted florist, you can guarantee a delightful experience filled with stunning floral arrangements that will exceed your expectations. It's like finding the last rose in a zombie apocalypse – challenging, but oh-so-satisfying when you have that blooming bouquet in your hands.
Conclusion
To pick the top florist in Malaysia, you should ponder a few aspects. Firstly, check their reputation and reviews. Secondly, have a look at the selection and quality of flowers. Thirdly, examine the cost and delivery options. Lastly, customer service is essential. By considering these factors, you can confidently make your decision.
Moreover, some florists have customization services for special occasions or events. If you have certain flower demands or tastes, you may want to ask about this option. Plus, some florists offer maintenance services for flower arrangements to make sure they last. These details can boost your flower purchase and contribute to a more satisfactory experience.
Remember that selecting the best florist is based on individual needs and preferences. What works for one might not work for another. So, it's crucial to think about your specific wants and expectations when making this decision. With careful consideration and attention to detail, you can find a trustworthy florist in Malaysia who will give you gorgeous flowers and excellent service consistently.
Frequently Asked Questions
Question 1: How do I choose the best florist in Malaysia?
Answer: When choosing a florist in Malaysia, consider their reputation, years of experience, range of flowers and services offered, customer reviews, and pricing.
Question 2: What factors should I consider when selecting a florist in Malaysia?
Answer: Some important factors to consider include the florist's location, delivery options, flower quality and freshness, customization options, and their ability to cater to specific occasions.
Question 3: Are there any specific certifications or awards I should look for in a florist?
Answer: Look for certifications such as the Good Florist Practice Certification or awards recognizing excellence in the floral industry. These indicate a florist's commitment to high standards and customer satisfaction.
Question 4: Can I visit the florist's shop to see their flowers in person?
Answer: Yes, it is recommended to visit the florist's shop to see the quality and variety of flowers they offer. This also allows you to discuss your preferences and make any necessary customizations.
Question 5: How can I ensure the florist delivers on time and maintains the quality of the flowers?
Answer: Read customer reviews and testimonials to get an idea of the florist's track record in timely delivery and flower quality. You can also inquire about their handling and storage practices for maintaining freshness.
Question 6: What happens if I am not satisfied with the flowers or the service provided by the florist?
Answer: Before placing an order, clarify the florist's return or refund policy. If you are not satisfied, promptly contact the florist to discuss your concerns and work towards a resolution.